Native Pest Management Named 2022 Gator100 Company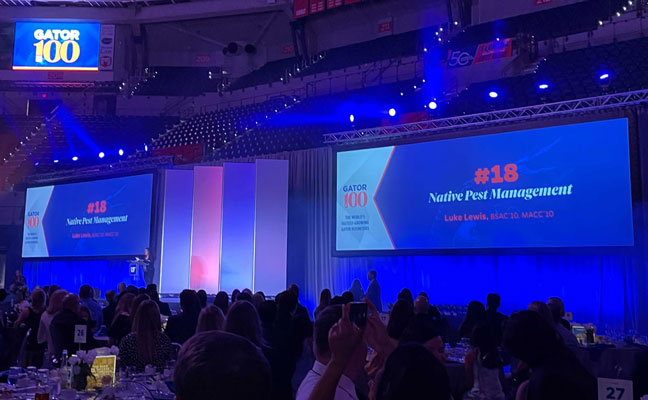 Native Pest Management was named the 2022 Gator100 Company, ranked 18th. The Gator100 announced the 2022 winners in January and recognized the winners at an April 22 awards ceremony on the University of Florida campus.
The Gator100 celebrates the fastest growing Gator-led company in the world. To be eligible for the award, a company must have been in business for at least five consecutive years; be owned or directed by a University of Florida alumni; have annual income of $250,000 or more; and operate in line with the values ​​and images of the University of Florida.
This year, the Gator100 represented 17 US states, 13 University of Florida colleges, and recognized 47 first-time honorees, including Native Pest Management.
According to a press release, Native Pest Management is proud to represent the University of Florida, led by Luke Lewis, president of Native Pest Management and alumnus of the University of Flordia.
"Over the past few years, the company has experienced rapid and considerable growth. It's exciting to see these positive results and all the opportunities that come with them. We pride ourselves on our exceptional services and it shows with thousands of five-star reviews on Google, Yelp, Facebook, Nextdoor and the Better Business Bureau," Lewis said. "I hope we can continue to be on the Gator100 list for years to come as we begin to be recognized as the top-rated pest control service in West Palm Beach, Florida and surrounding areas."
The Gator100 award is Native Pest Management's fourth honor for 2022.
The company also ranked in the Top 3 Best in Palm Beach County, won the FLCAJ Readers Choice Award at the platinum level, and received the Expertise Award for Best Pest Control Services in Port St. Lucie, West Palm Beach, Fort Lauderdale and Miami. In 2021, the company won the Better Business Bureau's Torch Award for Ethics and made the Inc. 5000 List of fastest growing companies in the United States.